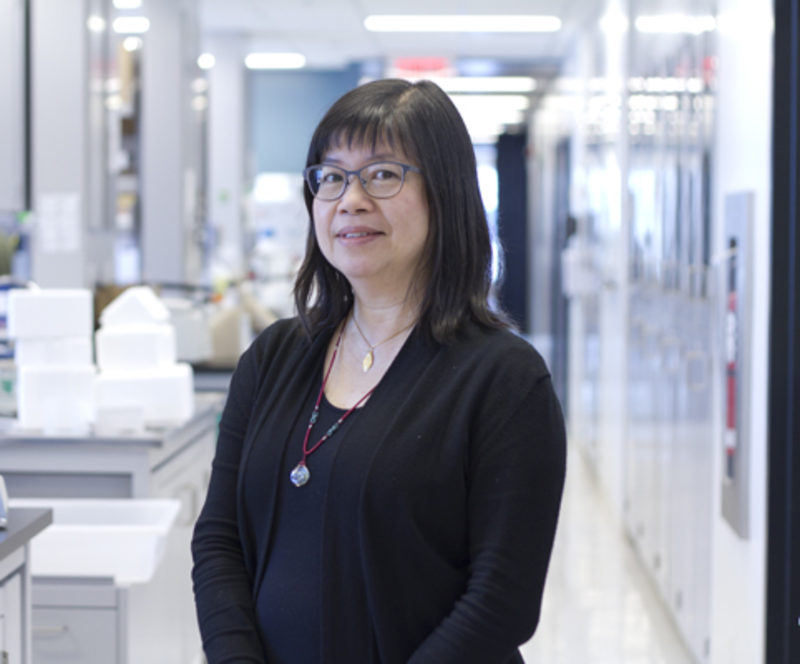 Full professor
Affiliation
Université de Montréa
Research Axes
Contact information
Phone: 514-252-3400, poste4655
Team
Elle Edin
Yasmina-Mia El Khoury
Marc Groleau
Bahareh Hosseinpour
Kamal Malhotra
Bijay Kumar
Fiona Catherine Simpson
Video
With a PhD in anatomy, May Griffith is the director of the Biomaterials for Corneal Regeneration Research Unit. A full professor in the Department of Ophthalmology at Université de Montréal, she is the Caroline Durand Foundation Chair in Cell Therapy for Eye Diseases at Université de Montréal and also the Canada Research Chair in Biomaterials and Stem Cells in Ophthalmology (Tier 1).
Her multinational interdisciplinary team is recognized for successfully regenerating the world's first human cornea using biosynthetic implants in a clinical trial. Her research focuses on "developing organs from the inside." With her team, she is developing biomaterials as implants to promote the regeneration of patient organs by stimulating their endogenous cells to perform the repair. They successfully tested the concept of human corneal regeneration in an innovative clinical trial of 10 patients and a follow-up clinical trial in patients at a high-risk of rejecting conventional corneal transplants from a donor. The team is also testing their biomaterials in other target organs.
Research Unit
Biomaterials for Corneal Regeneration
Dr. Griffith does research in tissue engineering. In December 1999, she and her team produced the first functional tissue that is equivalent to human corneal tissue. Her research results were published in the journal Science and attracted public attention. Pharmaceutical and consumer industries are interested in applications for corneal equivalents because they let companies avoid animal testing. Recently, Dr. Griffith worked with Dr. David Carlsson of the National Research Council Canada and other members of the tissue engineering team to develop a graft prototype that can be used as a substitute for human donor tissue. The biosynthetic corneas created from this research are currently being tested. The preliminary results indicate that these new biomaterials let host tissues regenerate.
Dr. Griffith's success is largely due to her ability to develop and coordinate collaborations with other scientists to build a global team of researchers from diverse backgrounds who work together to solve difficult problems. Her corneal research has led to a number of major partnerships between academia and industry as well as to invitations to participate in and speak at international ophthalmology conferences and meetings. Dr. Griffith's distinctions include the Premier's Research Excellence Award, an NSERC Faculty of Medicine Award, and a University of Ottawa Young Researcher of the Year Award. She was also named to Canada's list of Top 40 Under 40.
Jangamreddy JR, Haagdorens MKC, Islam MM, Lewis P, Samanta A, Fagerholm P, Liszka A, Ljunggren MK, Buznyk O, Alarcon EI, Zakaria N*, Meek KM*, Griffith M*. Short peptide analogs as alternatives to collagen in pro-regenerative corneal implants. Acta Biomater, 2018; doi.org/10.1016/j.actbio.2018.01.011

More detail

Islam MM, Buznyk O, Reddy JC, Pasyechnikova N, Alarcon EI, Hayes S, Lewis P, Fagerholm P, He C, Iakymenko S, Liu W, Meek KM*, Sangwan VS*, Griffith M*. Biomaterials-enabled cornea regeneration in patients at high risk for rejection of donor tissue transplantation. npj Regenerative Medicine, 2018; 3 (2): doi:10.1038/s41536-017-0038-8 (* equivalent contribution)

More detail

Islam MM, Ravichandran R, Olsen D, Ljunggren MK, Fagerholm P, Lee CJ, Griffith M*, Phopase J*. Self-assembled collagen-like-peptide implants as alternatives to human donor corneal transplantation. RSC Advances, 2016; 6: 55745-55749 (* equivalent contribution)


Alarcon EI, Vulesevic B, Argawal A, Ross A, Bejjani P, Podrebarac J, Ravichandran, R, Phopase J, Suuronen EJ, Griffith M. Coloured cornea replacements with anti-infective properties: Expanding the safe use of silver nanoparticles in regenerative medicine. Nanoscale, 2016; 8(12):6484-9. doi: 10.1039/c6nr01339b.


Mak WC, Cheung KY, Orban J, Lee CJ, Turner AP, Griffith M. Surface engineered contact lens as an advanced theranostic platform for modulation and detection of viral infection. ACS Appl Mater Interfaces, 2015; 7: 25487-25494.


Fagerholm P, Lagali NS, Ong JA, Merrett K, Jackson WB, Polarek JW, Suuronen EJ, Liu Y, Brunette I*, Griffith M*. Stable corneal regeneration four years after implantation of a cell-free recombinant human collagen scaffold. Biomaterials, 2014; 35: 2420-2427 (* equivalent contribution)


Vignoni M, de Alwis Weerasekera H, Simpson MJ, Phopase J, Mah TF, Griffith M*, Alarcon EI*, Scaiano JC*. LL37 peptide@silver nanoparticles: Combining the best of the two worlds for skin infection control. Nanoscale, 2014; 6: 5725-5728 (*equivalent contribution).


Wickham AM, Islam MM, Mondal D, Phopase J, Sadhu V, Tamás E, Polisetti N, Richter-Dahlfors A, Liedberg B, Griffith M. Polycaprolactone–thiophene-conjugated carbon nanotube meshes as scaffolds for cardiac progenitor cells. J Biomed Mater Res Part B: Appl Biomater, 2014; 102:1553-1561.


Fagerholm P, Lagali NS, Merrett K, Jackson WB, Munger R, Liu Y, Polarek JW, Söderqvist M, Griffith M. A biosynthetic alternative to human donor tissue for inducing corneal regeneration: 24 month follow-up of a Phase I clinical study. Science Transl Med, 2010; 2: 46ra61


Li F, Carlsson DJ, Lohmann CP, Suuronen EJ, Vascotto S, Kobuch K, Sheardown H, Munger M, Griffith M. Cellular and nerve regeneration within a biosynthetic extracellular matrix: corneal implantation. Proc. Natl. Acad. Sci USA, 2003; 100: 15346-15351.

Education
MBA

University of Ottawa

Postdoctoral fellowship in anatomy and cell biology

Harvard Medical School

Postdoctoral fellowship in physiology

University of Alberta

PhD in anatomy

University of Toronto

MSc in zoology

University of Toronto

BSc in zoology and human biology

University of Toronto
Awards
2019

Canada Research Chair (Biomaterials and Stem Cells in Ophthalmology, Tier 1)

2011

Medal of the year for contributions to nanomaterial integration and regenerative medicine (International Association of Advanced Materials – IAAM Nanomedical Technology)

2007

Life Sciences Achievement Award (Ottawa Centre for Research and Innovation – OCRI)

2001

Canada's Top 40 Under 40 Award

2000

Premier's Research Excellence Award

2000

Young Researcher of the Year Award (University of Ottawa)

1993

Faculty of Medicine Award (Natural Sciences and Engineering Research Council of Canada, NSERC)