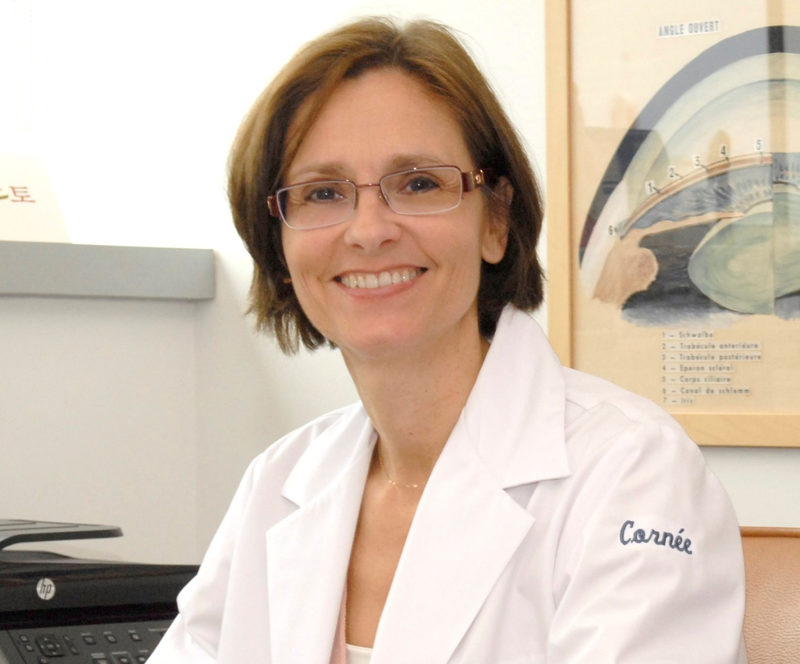 Full professor
Affiliation
Université de Montréal
Research Axes
Contact information
Phone: 514-252-3400, poste4959
Team
Janet Laganière
Valérie Lavastre
Leila Mejdoub
Marilyse Piché
Nadia Prud'homme
An ophthalmologist specializing in the cornea, Dr. Isabelle Brunette is the director of the Corneal Transplant Research Unit. A full professor in the Department of Ophthalmology at Université de Montréal, Dr. Brunette is the Charles-Albert Poissant Research Chair in Corneal Transplantation at Université de Montréal. 
Recognized for her ophthalmological research in Canada and internationally and a member of the BioFemtoVision research program in Canada, Dr. Brunette advocates with public and private bodies about the importance of unifying the Canadian ophthalmological research community to meet the best interests of patients. Her research aims to optimize the functional outcomes of corneal transplantation through cutting-edge technological advances in tissue engineering and femtosecond lasers.
Research Unit
Corneal Transplantation
Dr. Brunette's research focuses on how light passes through the cornea, and she also studies the quality of the optics of the eye following excimer laser refractive surgery based on corneal topography. 

Research interests
Excimer laser photorefractive keratectomy (refractive surgery), technological advances in cataract surgery, satisfaction studies, quality of the optics of the eye, corneal topography, Fuchs' dystrophy.
Projects
Multicentre studies to evaluate the outcomes of different types of refractive surgery; development of a questionnaire to evaluate postoperative patient satisfaction; first objective measurements of quality of optics and measurements of optical aberrations induced by refractive surgery using a Hartmann-Shack aberrometer.
Fields
Surgery – ophthalmology – transplantation and grafts/rejection. Methodology: clinical – evaluative. Pathology: glaucoma.
Grants
Canadian Institutes of Health Research (CIHR)
Funding from the Canada Foundation for Innovation (CFI)
FRQS Vision Health Research Network
Laliberté JF, Meunier J, Chagnon M, Kieffer JC, Brunette I. Construction of a 3-D atlas of corneal shape. Investigative Ophthalmology & Visual Science 2007 Mar;48(3):1072-8.


Proulx S, Bourget JM, Gagnon N, Martel S, Deschambeault A, Carrier P, Giasson CJ, Auger FA, Brunette I, Germain L. Optimization of the culture conditions for porcine corneal endothelial cells. Molecular Vision 2007; Apr 3;13:524-533.


Hick S, Laliberté JF, Meunier J, Chagnon M, Brunette I. Effects of misalignment during corneal topography. Journal of Cataract and Refractive Surgery 2007; 33:1522-1529.


Vidal F, Lavertu PL, Bigaouette N, Moore F, Brunette I, Giguère D, Kieffer JC, Olivié G, Ozaki T. Modelling of the energy density deposition profiles of ultrashort laser pulses focused in optical media. Journal of Physic: Conference series 2007;59:646-650.


Giguère D, Olivié G, Vidal F, Toetsch S, Girard G, Ozaki T, Kieffer JC, Nada O, Brunette I. Laser ablation threshold dependence on pulse duration for fused silica and corneal tissues: experiments and modeling. Journal of the Optical Society of America A Opt Image Sci Vis. 2007 Jun;24(6):1562-8.


Olivié G, Giguère D, Vidal F, Ozaki T, Kieffer JC, Nada O, Brunette I. Wavelength dependence of femtosecond laser ablation threshold of corneal stroma. Optics Express 2008; Vol. 16, No. 6 ; 4121-9.

Education
Fellow – Corneal transplantation and refractive surgery

Emory University, Atlanta, GA

Fellow – Corneal endothelium

Mayo Clinic Rochester , MN

Specialist diploma in ophthalmology

Université de Montréal

BSc in biology

Université de Montréal

Doctor of Medicine

Université de Montréal
Awards
2016

Canadian Academy of Health Sciences

2005

Personality of the week (La Presse / Radio Canada)

2003

Senior Clinical Research Scholar (Fonds de recherche du Québec - Santé, FRQS)

2003

Charles-Albert Poissant Research Chair in Corneal Transplantation (Université de Montréal)

2000

Geographical full-time medical staff member (tenure position) (Université de Montréal)

1995

Junior 1 Clinical Research Scholar (Fonds de recherche du Québec - Santé, FRQS)

1993

New Investigator Award (Université de Montréal)

1988

Cornea fellowship (Emory University School of Medicine, Atlanta, GA)

1987

Cornea fellowship (Mayo Clinic School of Medicine, Rochester, MN)