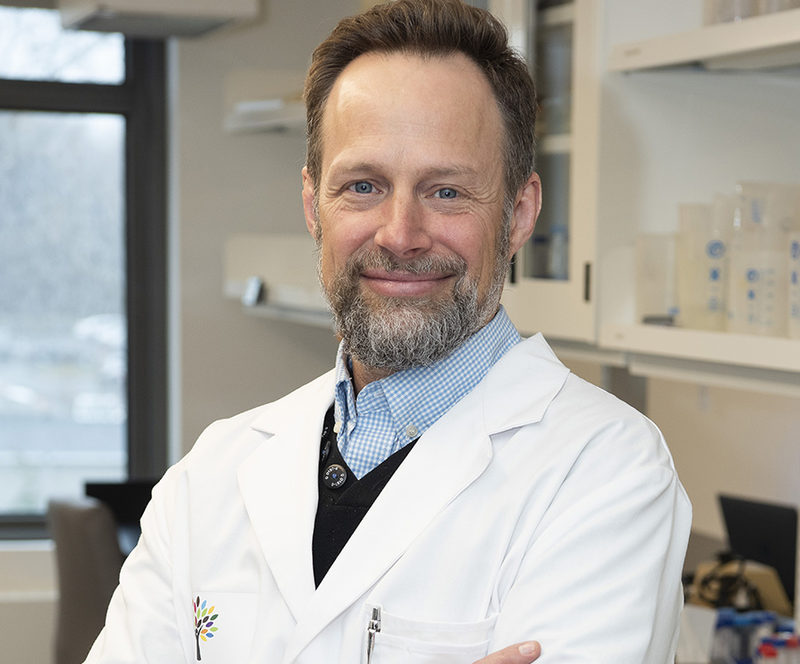 Associate professor
Affiliation
Université de Montréal
Research Axes
Contact information
Phone: 514-252-3400, poste4648
Team
Andrea Barabino
Rimi Hamam
Roy Hanna
Benoît Jacques
Mahya Jamshidikia
Asmae Mourslé
Patrick Nkanza Makala
Alain Rheault
Simindokht Salavitabar
Boris Tripier
With a PhD in molecular biology, Gilbert Bernier is the director of the Molecular Mechanisms of Neuronal Aging Research Unit. His research focuses on brain aging and related diseases; vision and diseases such as macular degeneration; Alzheimer's; and brain cancer. Gilbert Bernier is also an associate professor in the Department of Neuroscience at Université de Montréal.
Research Unit
Molecular Mechanisms of Neuronal Aging
Research interests
Molecular mechanisms for controlling neuronal aging in the brain and retina in humans and mice: implications in age-related neurodegenerative diseases.
Study of the differentiation and survival mechanisms of photoreceptors.
Use of human embryonic stem cells to produce and transplant photoreceptors to treat  retinal degenerative diseases.
Duparc, R.H., David, J., Abdouh, M., Lépine, M., Tétreault, N., and Bernier, G. (2007). "Pax6 Controls the Proliferation Rate of Neuroepithelial Progenitors from the Mouse Optic Vesicle". Developmental Biology. 301, 374-387.

More detail

Duparc, R.H., Boutemmine, D., Champagne, M., Tétreault, N. and Bernier, G. (2006). "Pax6 is Required for Delta-Catenin/Neurojugin Expression During Retinal, Cerebellar and Cortical Development in Mice". Developmental Biology. 300, 647-655.

More detail

Lord-Grignon, J., Abdouh, M. and Bernier, G. (2006). "Identification of Genes Expressed in Retinal Progenitor/Stem Cell Colonies Isolated from the Ocular Ciliary Body of Adult Mice". Gene Expression Patterns. 6, 992-998

More detail

Abdouh M. and Bernier, G. (2006). "Reactivation of a Quiescent Cell Population Located in the Ocular Ciliary Body of Adult Mammals". Experimental Eye Research. 83, 153-164.

More detail

Pool, M., Boudreau-Larivière, C., Bernier, G., Young, K.G., and Kothary, R. (2005). "Reduced transcript expression in dt alleles with distinct genetic alterations". Mammalian Genome. 16, 909-917.


Lord-Grignon, J., Tétreault, N., Mears, A. J., Swaroop, A., and Bernier, G. (2004). "Characterization of new transcripts enriched in the mouse retina and identification of candidate retinal disease genes". Invest. Ophthalmo. Vis. Sci. 45 (9), 3313-3319.

More detail
Education
Postdoctoral fellowship

Max Planck Institute for Biophysical Chemistry, Germany

PhD in molecular biology

Université de Montréal
Awards
2005

Junior 2 Research Scholar (FRQS)

2002

Junior 1 Research Scholar (FRQS)

2001

"Relève 2000" Bursary (Université de Montréal)

1998

Long-term postdoctoral fellowship (European Molecular Biology Organization, EMBO)