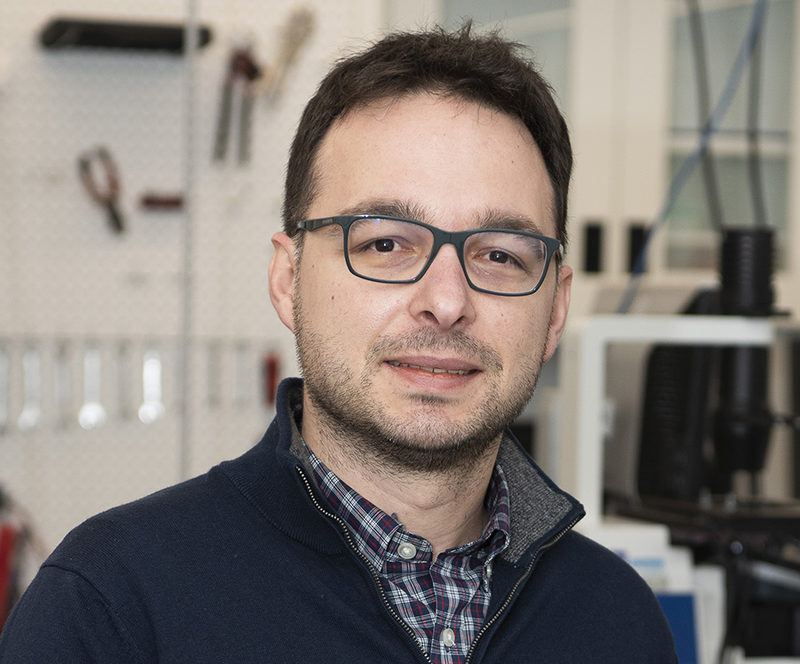 Associate professor
Affiliation
Université de Montréal
Research Axes
Contact information
Phone: 514 252-3400, poste4464
Team
Alexandre Abid
Hamid Ebrahimi Orimi
Katiane Roversi
Hamid Goordarzi
Mahyar Erfanian
With a PhD in applied physics, Christos Boutopoulos is a researcher in applied biophotonics at Hôpital Maisonneuve-Rosemont. He heads the Biomedical Applications of Lasers Research Unit. Christos Boutopoulos is also an associate professor in the Department of Ophthalmology and Department of Biomedical Engineering and an adjunct member of the Department of Pharmacology and Physiology at Université de Montréal.
His research focuses on the biomedical applications of lasers and nanomaterials, including the development of advanced imaging systems and bioprinting. He has also developed approaches to perform "surgery" on individual living cells. He is the author and co-author of 35 peer-reviewed publications in the field of optical engineering and biophotonics.
Research Unit
Biomedical Applications of Lasers
My laboratory uses emerging laser-assisted technologies to a) improve the safety and efficacy of eye surgery and b) perform direct printing of functional 3D structures.
K. Roversi, M. Tabatabaei, N. Desjardins-Lecavalier, M. Balood, Theo Crosson, S. Costantino, M. Griffith, S. Talbot#, C. Boutopoulos#, "Nanophotonics enable targeted photothermal silencing of nociceptor neurons", Small, 2103364, DOI: 10.1002/smll.202103364, (2022)


A. Abid*, R. Duval, C. Boutopoulos#, "Development and ex-vivo validation of 36G polyimide cannulas integrating a guiding miniaturized OCT probe for robotic assisted subretinal injections", Biomedical Optics Express, 13, 850-861 (2022)


A. Abid*, R. Duval, F. Rezende, C. Boutopoulos#, "A smart vitrector equipped by a fiber-based OCT sensor mitigates intentional attempts at creating iatrogenic retinal breaks during vitrectomy in pigs", Translational Vision Science & Technology, 10(13):19 (2021). doi: https://doi.org/10.1167/tvst.10.13.19


K. Roversi, H. Ebrahimi Orimi*, M. Falchetti, E. Lummertz da Rocha, S. Talbot, C. Boutopoulos#, "Bioprinting of Adult Dorsal Root Ganglion (DRG) Neurons Using Laser-Induced Side Transfer (LIST)", Micromachines, 12(8), 265 (2021). https://doi.org/10.3390/mi12080865


A. Abid, S. Mittal, C. Boutopoulos, "Etching-enabled extreme miniaturization of graded-index fiber-based optical coherence tomography probes," J. Biomed. Opt. 25(3), 032006 (2020)


Hamid Ebrahimi Orimi, Sayadeh Sara Hosseini Kolkooh, Erika Hooker, Sivakumar Narayanswamy, Bruno Larrivee, Christos Boutopoulos, "Drop-on-demand cell bioprinting via Laser Induced Side Transfer (LIST)", Scientific Reports, 10, 9730 (2020)

More detail

A. Doppenberg, M. Meunier, C. Boutopoulos, "A needle-like optofluidic probe enables targeted intracellular delivery by confining light-nanoparticle interaction on single cell", Nanoscale 10 21871-21878 (2018)


R. Lachaine, C. Boutopoulos, P.-Y. Lajoie, E. Boulais, M. Meunier, "Rational design of plasmonic nanoparticles for enhanced cavitation and cell perforation", Nano Letters, 16 3187-3194 (2016)


C. Boutopoulos, E. Bergeron, M. Meunier "Plasmonic bubble mediated single near infrared femtosecond laser pulse cell perforation", Journal of Biophotonics, 9 26-31 (2016)

Education
Marie Curie Research Fellowship

École Polytechnique de Montréal, Canada; University of St. Andrews, United Kingdom

Postdoctoral fellowship

École Polytechnique de Montréal

PhD in applied physics

Athens Polytechnic, Greece

MSc in microsystems and nanodevices

Athens Polytechnic, Greece

BSc in applied physics

Athens Polytechnic, Greece
Awards
2018

Junior | Research Scholar (Fonds de recherche du Québec – Santé, FRQS)

2014

Marie Skłodowska-Curie Fellowship (European Commission)

2012

Postdoctoral research fellowship (Fonds de recherche du Québec – Nature et technologies, FRQNT)