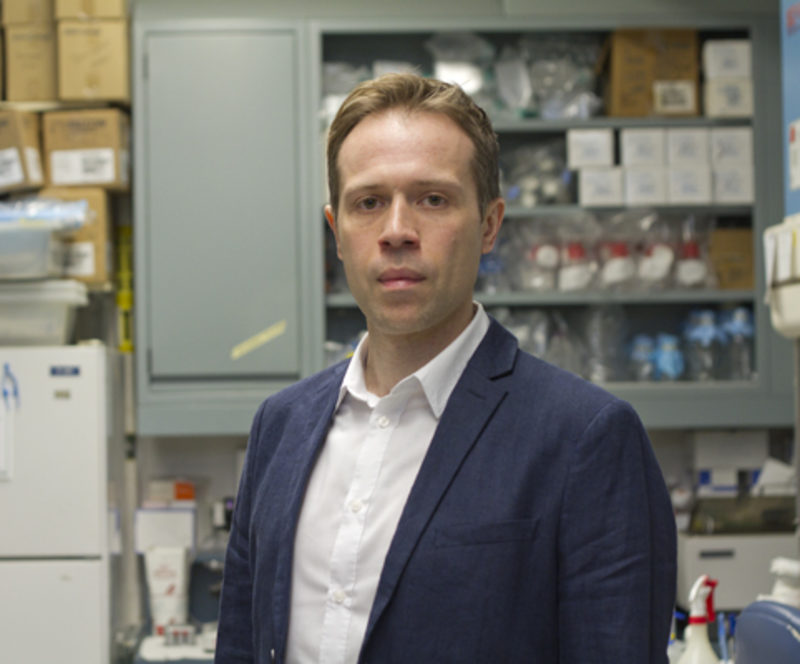 Assistant professor
Affiliation
Université de Montréal
Research Axes
Team
Daniel Feng
Sandrine Lemire-Claudé
Casimiro Gerarduzzi, PhD, is a senior researcher with the Renal Fibrosis Research Unit. He is also an assistant professor in the Faculty of Medicine at Université de Montréal.
His research interests are in the signalling mechanisms that lead to renal fibrosis (in a pre-clinical and clinical context) to identify useful molecular markers in diagnosis and therapy.
Research Unit
Renal Fibrosis
Our goal is to study how the induction of matricellular proteins regulates the initiation and progression of renal repair and whether the genetic or pharmacological modulation of these proteins can reduce renal fibrosis. The specific goals of our laboratory are to:
Determine which expression levels of which matricellular proteins have 1) a significant in-vivo influence under fibrotic conditions compared to normal conditions and 2) an in-vitro effect on fibroblasts treated with TGF-

β

and on renal epithelial cells.

Analyze the role of matricellular proteins on cell-ECM interactions using renal fibroblasts and tubular epithelial cells.

Study the therapeutic implications of targeting matricellular proteins and their downstream pathways.
Gerarduzzi, C., Kumar, R., Trivedi, T., Ajay, A., Iyer, A., Boswell, S., Hutchinson, J., Waikar, S., and Vaidya, V.S. Silencing SMOC2 ameliorates kidney fibrosis by inhibiting fibroblast to myofibroblast transformation. 2017. JCI Insight. [Epub ahead of print].

More detail

Gerarduzzi, C., and Di Battista, J.A. Myofibroblast repair mechanisms post-inflammatory response: A fibrotic perspective. 2017. Inflamm Res. 66:451-465. *Auteur Correspondant

More detail

Gerarduzzi, C., We, Q., Zhai, B., Antoniou, J., and Di Battista, J.A. Prostaglandin E2-Dependent Phosphorylation of RAS Inhibition 1 (RIN1) at Ser 291 and 292 Inhibits Transforming Growth Factor-β-Induced RAS Activation Pathway in Human Synovial Fibroblasts: Role in Cell Migration. 2017. J Cell Physiol. 232(1):202-15. *Auteur Correspondant

More detail

de Polo, A., Luo, Z., Gerarduzzi, C., Cheng, X., Little, J., and Yuan, Z.M. AXL receptor signalling suppresses p53 in melanoma through stabilization of the MDMX-MDM2 complex. 2017. J Mol Cell Biol. 9(2):154-165.

More detail

Trivedi, P., Kumar, R., Iyer, A., Boswell, S., Gerarduzzi, C., Herbert, Z., Joshi, N., Luyendyk, J., and Vaidya, V.S. Targeting Phospholipase D4 Attenuates Kidney Fibrosis. 2017. J Am Soc Nephrol. [Epub ahead of print].

More detail

Gerarduzzi, C., de Polo, A., Liu, X.S., El Kharbili, M., Little, J., and Yuan, Z.M. Human epidermal growth factor receptor 4 (Her4) Suppresses p53 Protein via Targeting the MDMX-MDM2 Protein Complex: IMPLICATION OF A NOVEL MDMX SER-314 PHOSPHOSITE. 2016. J Biol Chem. 291(50):25937-25949.

More detail

Liu, X.S., Liu, Z., Gerarduzzi, C., Choi, D.E., Ganapathy, S., Pandolfi, P.P., and Yuan, Z.M. Somatic human ZBTB7A zinc finger mutations promote cancer progression. 2016. Oncogene 35(23):3071-8.


Gerarduzzi, C., We, Q., Antoniou, J., and Di Battista, J.A. Prostaglandin E2-Dependent Blockade of Actomyosin and Stress Fiber Formation Is Mediated Through S1379 Phosphorylation of ROCK2. 2014. J Cell Biochem. 115(9):1516-27. *Auteur Correspondant

More detail

Demoulins, T., Abdallah, A., Kettaf, N., Baron, M.L., Gerarduzzi, C., Gauchat, D., Gratton, S., and Sekaly, RP. Reversible blockade of thymic output: an inherent part of TLR ligand-mediated immune response. 2008. J Immunol. 181:6757-6769.

More detail
Education
Postdoctoral fellowship

Harvard Medical School/Brigham and Women's Hospital

Postdoctoral fellowship

Harvard School of Public Health

PhD in experimental medicine

McGill University, Montreal

MSc in experimental Medicine

McGill University, Montreal

BSc with a specialization in cellular and molecular biology

Université Concordia, Montréal
Awards
2018

New Investigator Award (KRESCENT)

2018

Infrastructure support (KRESCENT/IRSC)

2017

Grant (Hôpital Maisonneuve-Rosemont Foundation)

2016

Innovation Discovery (Partners HealthCare/Brigham & Women's Hospital))

2011

PhD fellowship (McGill University)