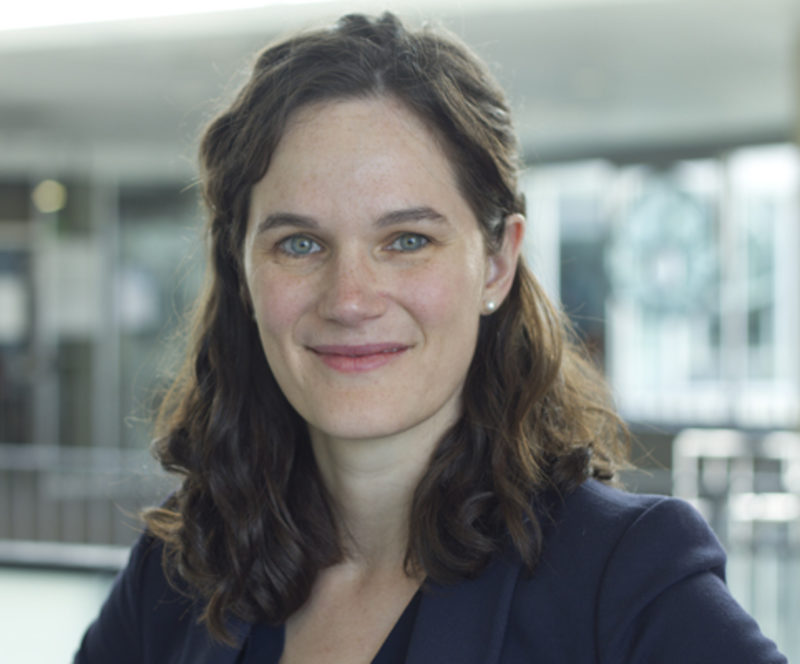 Associate professor of clinical medicine
Affiliation
Université de Montréal
Research Axes
Contact information
Phone: 514-252-3400, poste6141
Team
Karine Chaussé
Naoual Elftouh
Monica Joseph-Lemieux
Shawn Manuel
Dr. Annie-Claire Nadeau-Fredette received her MD in 2007 and completed post-graduate training in Nephrology in 2012 at the Université de Montréal. She underwent home dialysis research post-doctoral fellowships at the University of Toronto (2013) and at the University of Queensland (2015). In 2016, she completed a Masters in Clinical Research from the Université de Montréal. Her main research interests are in home dialysis and transition periods in kidney failure.
Dr. Nadeau-Fredette is an Associate professor of clinial medicine at the University of Montreal and a nephrologist at the CIUSSS de l'Est-de-l'Île-de-Montréal (Hôpital Maisonneuve-Rosemont) and at the Montreal Heart Institute. She is director of home dialysis programs (peritoneal dialysis and home hemodialysis) at Hôpital Maisonneuve-Rosemont.
Research Unit
Kidney failure affects a large number of Quebecers, most of whom must receive dialysis treatments. In these patients, home dialysis is increasingly favored both for its favorable clinical repercussions and economic efficiency. In general, patients with kidney failure face several transitions. These periods present an increased risk of complications, including in patients treated with home dialysis.
Dr. Nadeau-Fredette and her team are interested in the morbidity and mortality associated with home hemodialysis, peritoneal dialysis and transition periods, using national and international databases. In addition, Dr Nadeau-Fredette and her team assess changes in quality of life and frailty and other patient-reported outcomes (PRO) during the end-stage renal disease continuum, and more specifically during periods of transitions.
Subventions
Kidney Foundation of Canada
Fonds de Recherche du Québec - Santé
AC Nadeau-Fredette*, N Sukul, M Lambie, J Perl, S Davies, DW Johnson, B Robinson, WV Biesen, A Kramer,, KJ Jager, R Saran, R Pisoni, CT Chan, for the INTEGRATED study group**. Mortality Trends after Transfer from Peritoneal Dialysis to Hemodialysis. Kidney Int Rep, In Press, 2022


C Morin, I Gionest, LP Laurin, R Goupil, AC Nadeau-Fredette*. Risk of hospitalization, technique failure, and death with increased training duration in 3-days-a-week home hemodialysis, Hemodialysis International 2021, Jun 25


AC Nadeau-Fredette*, KT Tennankore, J Perl, JM Bargman, DW Johnson, CT Chan. Home Hemodialysis and Peritoneal Dialysis Patient and Technique Survival in Canada: The Effect of Era, Kidney Int Rep. 2020 Aug 26;5(11):1965-1973.


The INTEGRATED Research Group. Transition between different renal replacement modalities: Gaps in knowledge and care: the INTEGRATED Research initiative. Peritoneal Dialysis International. Perit Dial Int. 2019 Jan-Feb;39(1):4-12.


AC. Nadeau-Fredette, CT. Chan, Y. Cho, C. Hawley, E. Pascoe, PA. Clayton, KR. Polkinghorne, N. Boudville, M. Leblanc, DW Johnson. Outcomes of Integrated Home Dialysis Care: A Multi-centre, Multi-national Registry Study. Nephrol Dial Transplant. 2015 Nov;30(11):1897-904


AC. Nadeau-Fredette, C. Hawley, E. Pascoe, CT. Chan, PA. Clayton, KR. Polkinghorne, N. Boudville, DW Johnson. An incident cohort study comparing survival on home hemodialysis and peritoneal dialysis – a multicenter ANZDATA Registry analysis. Clin J Am Soc Nephrol. 2015 Aug 7;10(8):1397-407

Education
Doctor of Medicine

Université de Montréal

Internal medicine

Royal College of Physicians and Surgeons of Canada

Nephrology

Royal College of Physicians and Surgeons of Canada

Postdoctoral fellowship in home dialysis and clinical research

University of Toronto, University Health Network University of Queensland, Princess Alexandra Hospital

MSc in biomedical sciences, clinical research

Université de Montréal
Awards
2018

Junior 1 Clinical Research Scholar (FRQS – Société québécoise de néphrologie partnership)

2016

New Investigator Award (Faculty of Medicine of Université de Montréal)

2012

Complementary training award (Hôpital Maisonneuve-Rosemont Foundation)