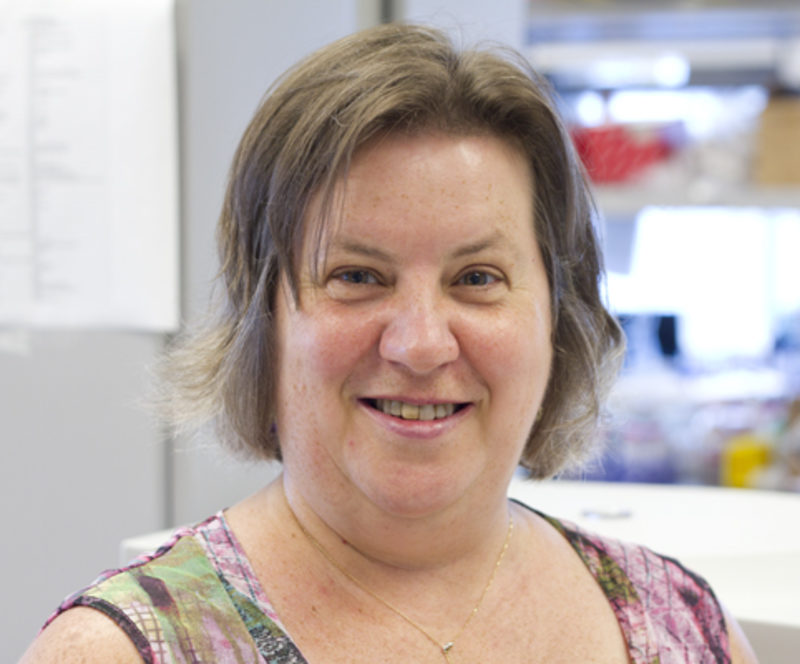 Full Professor
Affiliation
Université de Montréal
Research Axes
Contact information
Phone: 514-252-3552
Team
Salix Boulet
Jean-François Daudelin
Myriam Ennajimi
Laure Le Corre
Dave Maurice De Sousa
Chloé Nobis
Livia Odagiu
Andreea Stepanov
Nathalie Labrecque, PhD, directs the Molecular Immunology Unit and is the assistant director of the Immunology-Oncology Axis at the Centre de recherche de l'Hôpital Maisonneuve-Rosemont. She also does research in the Vision Health Research Network and the Quebec Cell, Tissue and Gene Therapy Network (ThéCell). Nathalie Labrecque is a full professor in the Department of Microbiology, Infectious Diseases and Immunology at Université de Montréal.
Her research team aims to better understand the molecular mechanisms that govern the T lymphocyte response and the development of immunological memory. She has published over fifty scientific articles from her research.
Research Unit
Molecular Immunology
Notre unité étudie la réponse immunitaire et le développement des lymphocytes T in vivo à l'aide de modèles de souris transgéniques et knock-outs. Nous utilisons différentes approches de biologie moléculaire et cellulaire telles que la cytométrie, la transgénèse, l'inactivation de gènes et des analyses transcriptomiques.
Our unit studies the immune response and development of T lymphocytes in vivo using transgenic and knock-out mouse models. We use different molecular and cellular biology approaches such as cytometry, transgenesis, gene inactivation and transcriptome analysis.
Research interests
Study of the development of memory T lymphocytes: identification of the cascade of molecular events required for memory T lymphocyte development and survival (CIHR-funded project).

Novel approaches to adoptive therapy using resident memory T lymphocytes (CCSRI-funded project).

Study of the development of T lymphocytes in the thymus: determination of the role of orphan nuclear receptors in the thymic development of T lymphocytes (NSERC-funded project).

Study of the development of monocyte-derived dendritic cells and the identification of their roles in the immune response (CIHR-funded project).
Leignadier J, Hardy M-P, Cloutier M, Rooney J, Labrecque N. Memory T lymphocyte survival does not require T cell receptor expression. Proc Natl Acad Sci USA 2008, 105: 20446-20451.


Leignadier J, Labrecque N. Epitope density controls CD8+ memory T cell differentiation. PLoS One 2010, Oct 29;5(10):e13740.

More detail

Fortier EE, Rooney J, Dardente H, Hardy MP, Labrecque N*, Cermakian N. The circadian clock controls the response of T cells to antigen. J Immunol 2011, 187:6291-6300.


Mathieu M, Cotta-Grand N, Daudelin J-F, Thébault P, Labrecque N. Notch signaling regulates PD-1 expression during CD8+ T cell activation. Immunol Cell Biol 2013, 91:82-88.

More detail

Boulet S, Daudelin J-F, Labrecque N. IL-2 induction of Blimp-1 is a key in vivo signal for CD8+ short-lived effector T cell differentiation. J Immunol 2014, 193: 1847-1854.

More detail

Marquis M, Daudelin J-F, Boulet S, Sirois J, Crain K, Mathien S, Turgeon B, Rousseau J, Meloche S, Labrecque N. The catalytic activity of the mitogen-activated protein kinase extracellular signal-regulated kinase 3 is required to sustain CD4+CD8+ thymocyte survival. Mol Cell Biol 2014, 34 : 3374-3387.

More detail

Mathieu M, Duval F, Daudelin J-F, Labrecque N. The Notch signalling pathway controls short-lived effector CD8+ T cell differentiation but is dispensable for memory generation. J Immunol 2015, 94:5654-62.

More detail

Duval F, Mathieu M, Labrecque N. Notch controls effector CD8+ T cell differentiation. Oncotarget. 2015, 6: 21787-8.

More detail

Mathieu M, Odagiu L, Gaudot L, Daudelin J-F, Melichar HJ, Labrecque N. Inflammation enhances the vaccination potential of CD40-activated B cells in mice. Eur J Immunol 2017, 47:269-279.

More detail

Kiessling S, Beaulieu-Laroche L, Blum ID, Landgraf D, Welsh DK, Storch K-F, Labrecque N, Cermakian N. Enhancing circadian clock function in cancer cells inhibits tumor growth. BMC Biol 2017, 47(2):269-279. doi: 10.1002/eji.201646568. Epub 2016 Dec 27.

More detail
Education
Postdoctoral fellowship

IGBMC, France

PhD

IRCM, Montréal
Awards
2015

PhD researcher of the year (Faculty of Medicine, Université de Montréal)

2008

Senior Research Scholar (FRQS)

2002

New Investigator Award (CIHR)

1999

Bourse du centenaire (CRM)